Daemon vs Demon
A downloadable game for Windows and macOS
Misfortune has led our hero to the depths of hell. Now he has to slay rogue demons to be able to remain in the world of the living.
This is a demo made for the GitHub Game Off Jam 2017.
This demo was created using Godot Engine and the authors would like to thank the support of the Godot Engine Facebook community (https://www.facebook.com/groups/godotengine/). Thanks guys for helping out so much!
In the spirit of the GitHub Game Off Jam, the game and graphical assets are freely available here: https://github.com/securas/goj with a very permissible MIT license. Also, the music and sfx are available under a CC license.
We hope you have as much fun playing this demo as we had making it and please leave a comment below to let us know if you liked it or how can we improve it.

Controls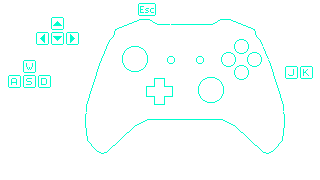 Credits
Install instructions
For some reason, windows 10 is considering the binaries infected by a trojan: Fuerboos.A!cl

As far as we know, this is a false positive.
Comments
Log in with your itch.io account to leave a comment.
Please upload a linux version, also, why not an HTML5 version too.

hi! Thanks for the comment! I can't upload more versions on itch but I have a released Linux version on the GitHub page. Check it out from the link above. Unfortunately the game is too heavy for HTML due to my crappy programming.